Coyote-UGVS
Unmanned Ground Vehicle Systems -Rob Meyer Productions

info@robmeyerproductions.com
Coyote-UGVS
Unmanned Ground Vehicle Systems -Rob Meyer Productions
COYOTE
Unmanned Ground Vehicle Systems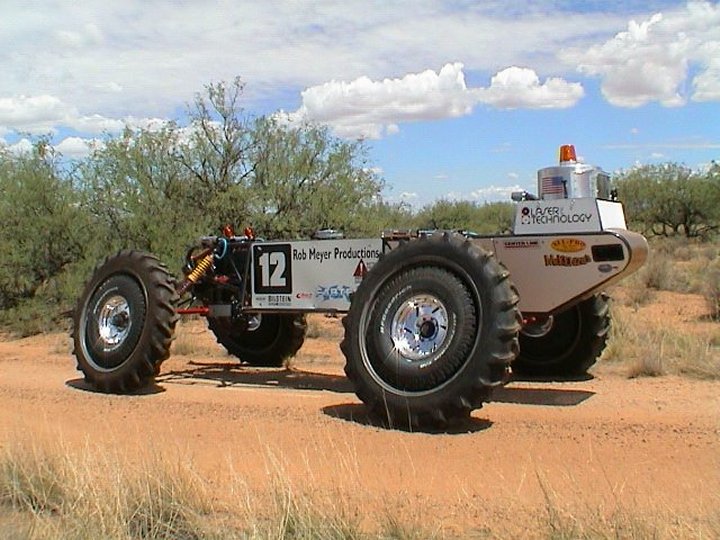 December 20 2010 The Story Continues...
Having allowed this page to languish in obscurity for years, I have decided to continue it as a blog. Six years later I still have the Coyote vehicle. It now sits at an undisclosed location in Washington State. The vehicle stills runs, and I suppose if I were to install the equipment back into it it would still work. I am moving on to better things, though. These days, much of the technology I packed into the vehicle could now be packaged into something the size of a cigarette pack for perhaps one tenth of what it cost me to configure the original systems.
For me this was hard won knowledge. I had no engineering background or technical team to assist me with my build back in 2003. I had access to the Internet, some fair mechanical and fabrication skills, a lot of imagination, and a strong desire to contribute to the mission of the DARPA Grand Challenge. The experience I gained carried through into many other projects I have successfully completed since then, and I am sure I will continue to build upon that foundation in the coming years.
Soon I will be going into semi-retirement from the fire service. Although I will still be working, I do look forward to having more time to explore the limitless possiblilities which lie ahead in the areas of autonomous vehicle navigation and behavior. I see these systems as a great future asset in the role of machines stepping in for their human counterparts in some of the most dangerous tasks we now face in our world; in areas such as agriculture, mining, timber and other extraction industries, hazardous waste mitigation and disposal, firefighting, security, law enforcement and bomb disposal.
With so many natural and man-made threats to our health, our safety, our security and our way of life, I intend to spend the second half of my life putting machines to work in areas not suitable for a human presence. I hope to add to this page- "blog style" for the time being, then maybe soon when I have more time I will flesh this out into a more functional and up to date website. And for now I suppose I can go to the bottom of this page and change the "last updated" date from "December 27, 2005"- yeesh has it been that long??- Rob December 20, 2010
The Story Thus Far...
The Coyote Unmanned Ground Vehicle (UGV) project has been going for about three years now. The Coyote system started as an entry in the 2004 DARPA Grand Challenge event, a contest wherein the entrants had to build completely autonomous robotic vehicles to traverse an on and off-road course roughly between Barstow, CA and Primm, NV, with nothing more than GPS signals and their own sensor inputs to guide them.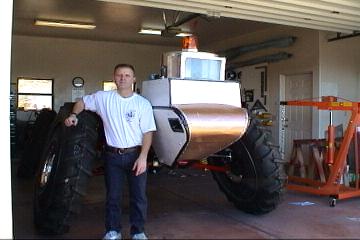 No one finished that year's event, and a new contest was anounced for October of '05. Furthermore, DARPA Director Dr. Anthony Tether decided to sweeten the pot by another $1 Million, for a total of $2 Million to the team with the fastest finish under ten hours. Stanford University came through and won the prize in '05, and did so in style.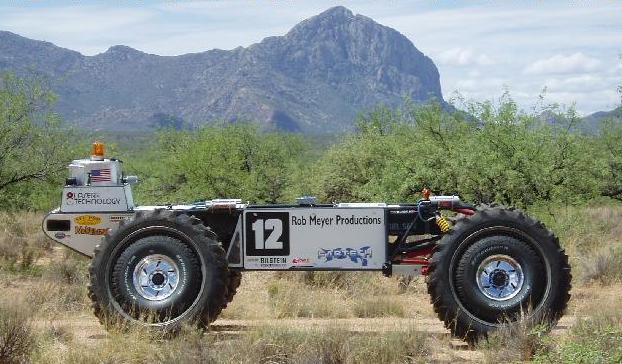 Our entry never made it into the semi-finals of qualifying for the '05 event, even though we did turn out a few good autonomous runs during our Site Visit Qualifying. Our demise may have been the fact that we had no obstacle avoidance systems running that day. In an attempt to keep things simple, it was decided to run only sonar that day, since at the time our other sensors only came on line at speeds higher than 15 mph. Early that morning while doing practice runs for the Site Visit, the sonar processor dumped its program, rendering the three sensors useless. With no programming board on site, and no time to run and get one, we ended up "flying blind" for the day.
Despite the bad luck of that day, we continue to work to finish and perfect the system, as we see tantalizing evidence that similar competitions may be in our future. The Coyote was built for this purpose alone, so we continue to wait for opportunities to showcase and test our approach to this daunting challenge. In the meantime, we hope to expand this website. As interest in our activities grows, so does the demand for more information about what makes up the Coyote UGV. Keep checking back here for more pages, more pictures, and maybe even some video.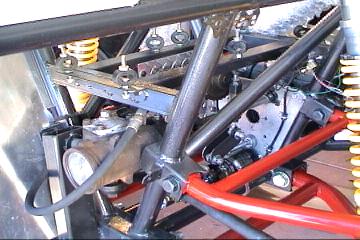 WHAT'S NEXT?
We are currently working to add a drivers' seat to the car. While this might seem like a big step backwards for autonomous navigation, it will allow us to ride along and monitor the performance of the vehicle as we test it. This is something we could not do in the past, something other teams could do, and something that could greatly accelerate the testing and developement process of such a system. Other additions we have made, even since learning that the original DARPA Grand Challenge had been won, include the addition of two Doppler Radar units for forward obstacle detection, and firmware upgrades to our protoype Scanning Laser Rangefinder from LTI.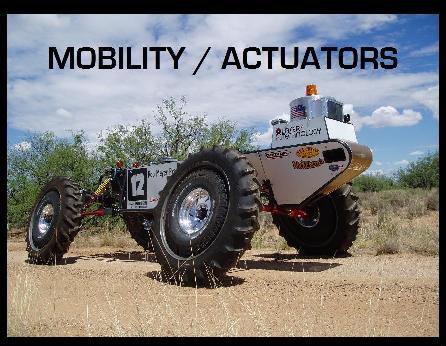 I want to ackowledge a great team that has come together to assist us with our laser ranging instrument. Joe Cronn, Patrick Delorehy, Tony Zambai, and the whole bunch at Laser Technology, Inc. did a wonderful job optimizing the brand new Laser Rangefinder that is the basis of our Scanning Laser Instrument. For the first two years of this endeavor, LTI provided us with a Laser Instrument, and with all the technical assistance we needed to apply their unit to our system, allowing us to create a robust and effective obstacle detection system.
Finally, I have to put a word in for John Heubner, of Dix Motorsports/Speedscene.us for his continuing support. John is our machinist, and he patiently hung in there with us through some pretty demanding times.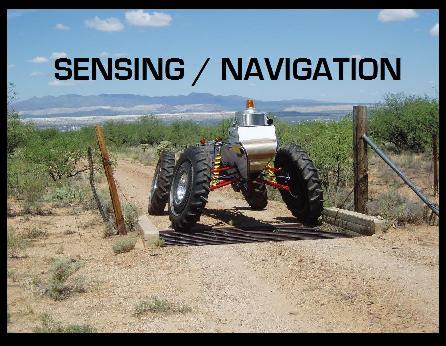 Some of the upgrades we had made prior to the '05 event included: a faster, more robust, and more precise Steering Feedback Sensor, a much more sensitive, precise, and reliable Fluid Stabilized Magnetic Compass, an entirely new design and configuration of our Scanning Laser Rangefinder (LIDAR), a new series of faster Peripheral Microcontrollers, along with RS-485 Networking which blows away the RS-232 based communications that spelled our doom in the eleventh hour of preparations for 2004's event, and a new Parallel Control Interface for all of the vehicle's control outputs.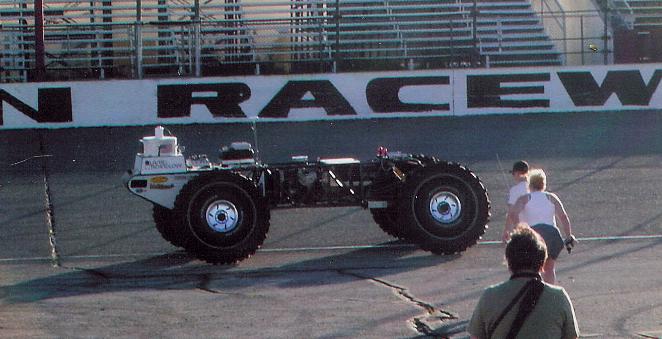 A SIMPLE SOLUTION
As you can tell from the pictures, our vehicle is a cumbersome beast. Getting it out in the field for testing was getting to be a burden. Our solution was to build a "little brother" for the Coyote, which I have dubbed "The Javelina". The Javelina is basically a small electric Go-Kart, electrically identical to the Coyote, with accomodations for all of the same computing and sensing equipment the larger car has. We are able to swap the equipment onto the little car, throw it in the bed of my pickup, and take it out for testing or just let it find its way down our driveway much more easily than we can with the larger rig. This has sped up the process of tweaking the navigation software greatly.
In case you were wondering, I arrived at the name Javelina while watching the little car poke its way along my driveway- which is exactly what I find a group of REAL javelina doing at about four o'clock every morning- except my little car doesn't finish his outings by rumaging through my garbage cans!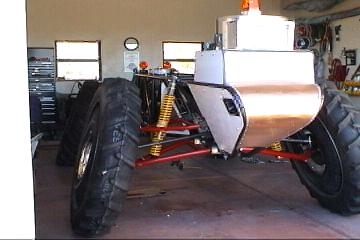 It is my belief that in order to have a machine drive a vehicle through an unpredictable environment, you must start with a platform that is designed to be robust and forgiving enough to be driven within the limits of your sensing and processing resources. To that end, the Coyote UGV is sure to deliver.

Look for more to come soon at this site about the Coyote project. We are most thankful for the continued support of our sponsors and team members. We are pleased to be part of such a historic and important undertaking. If there is to be a next time, we surley hope to be there!

Rob Meyer

RobMeyerProductions.com Homepage





Last Update 20 Dec 2010